Blundstone Kid's Series 565 Premium Leather Chelsea Boots in Rustic Brown
Cut from the same cloth as our Classic 550, the #565 is a family icon made for the children in yours.
DESCRIPTION
Kids' boots go through a lot, but these will last longer than most, thanks to a spare set of footbeds, so the kids can get more out of it and focus more on their days at school or in the park. These genuine leather boots are great for girls and boys of various ages and sizes.
SPECIFICATIONS
- Rustic brown premium water-resistant leather
- Brown elastic
- Pull tabs to help kids put on boots
- Polyurethane sole
- Footbed is removable and washable
CARE DETAILS
- First, remove any caked dirt on your boots with a soft bristled brush or damp cloth, and leave your boots to air dry. Please ensure that your boots are away from direct sunlight or any heaters, as they will dry out the leather.

- Apply leather polish, spray or cream to the leather to help maintain your boots. If you are using a polish for the first time, try it on an inconspicuous area of the boot to check whether it alters the colour or appearance.

- If using a polish, apply a small amount of leather cleaner to a polishing cloth or brush and rub onto the shoe in circular motions.
-Wipe away the residue and again leave to dry.
SIZE GUIDE
Blundstone boots fit true to size. While our leathers will stretch and mold to your feet over time, if you prefer a wider fit select a half size up.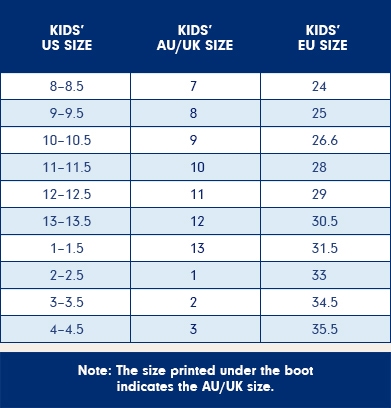 THE RIGHT FIT
When trying on your Blundstone boots, there should be a slight give in the heel and about a quarter inch of space from the tip of your toe to the front of the boot.
With repeated use, your Blundstone boots will stretch slightly over the instep, but never stretch lengthwise.
When you receive your boots make sure you try them on standing, wearing socks that you wear with your boots. Please also try these on a carpeted surface so that the bottom of the boots are protected.
The Classic Series are a slightly wider fit than the Originals and feature extra insoles that can be used to further adjust fit.
The Dress Series have a slightly longer fit than other Blundstone styles. Some people go down a 1/2 size in this style.